Christmas just keeps coming earlier and earlier these days, especially if you're an Animal Crossing: New Horizons fan. More than 24 hours in advance, Nintendo released the massive new update far ahead of schedule. The new DLC, Happy Home Paradise, is not yet available, but that's probably for the best. There's so much to explore already, and as usual, some content will take a day or so to roll out, unless you wanna cheat, time travel, and cause any turnips you have to spoil.
If you've been away from your island for a while, don't worry. Your islanders are much kinder about breaks than in previous games. You could restart your island if you really want to, as the new/returning villagers can pop up, but I think most of us are fine with what we have. I'm sure players have some dailies they'll want to get out of the way while exploring, but we should note that there's at least one new feature you need to do in a specific order. Don't worry, as we'll discuss how to do that and some of the other features we've found within the first few hours of release.
For those looking for Brewster, know that it's a bit of a quest and messing up the steps could force you to wait a day or time travel.
First, you already need to have had KK Slider visit your town. You also have to have given Blathers a sea creature (found via diving with the wet suit). Once that's done, Blathers should give you a quest to search for Brewster. It requires using Kapp'n, who will take you out on his boat only once a day. You'll find Brewster on the island you visit, and maybe some other things, so explore! I got both a gyroid fragment from Brewster and found one buried in the ground. Remember, gyroids must be buried on your island and watered. Seriously. Water them. Then watch the grounds. You'll know if you did it right, but it is a bit creepy.
When you're done, report back to Blathers. Your museum will be closed the next day, but supposedly the day after that you'll finally be able to sit down for that coffee break you've been waiting on.
Villagers now will just drop by your house. Whenever. They'll bring gifts and offer to play games, like high card/low card. They'll soon say they have to leave, but you can ask them to stay. When you want them gone, just try to leave your house and they'll be off.
As Isabel will tell you, ordinances are live and cost 20k in bells for her to activate them for you, each time. At least from the descriptions, Early Bird and Night Owl only make store/NPC hours longer in one direction or the other, rather than simply shifting them to a different time like before.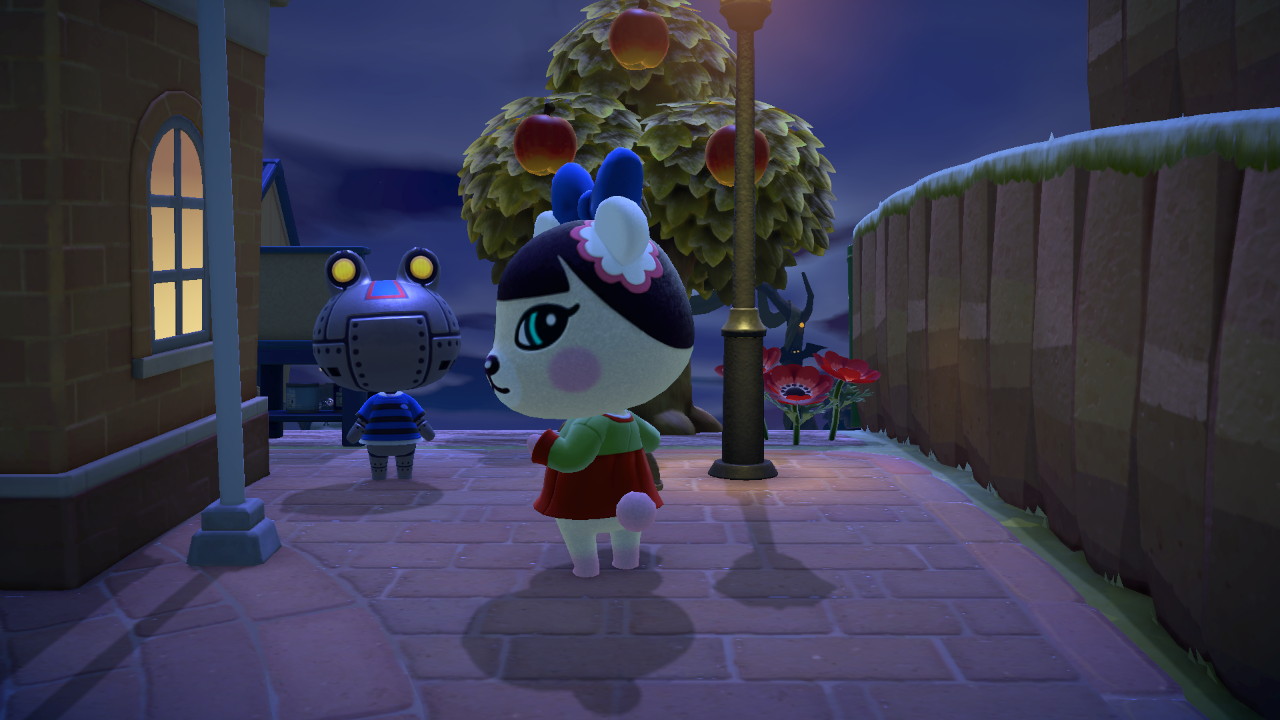 Speaking of town hall, the tape deck in front activates the stretching minigame we saw previously. This can be done at any time of day and calls forth any NPC on your island, even visitors like Gulliver. There's no rewards for doing it, but also no punishments if your timing is off.
The new KK Songs are in too. Check your Nook Shopping App to see if you can order a new song when you log in! Don't forget you can also probably request songs when KK visits Saturday nights. The shopping app also has new items, such as cars and trucks. If you want your island to have traffic, you'll clearly need those.
For Nook Mile redemptions, I believe unlocking all the new stuff that's immediately available (not including non-feature related furniture) cost about 34k Miles. There's so much going on here in terms of unlocks. The new storage sheds make life easier, as does the increased storage and arrival of DIY recipe storage! The new decorating skills are live, such as accent walls and moving anything that hangs on the ceiling, but the DLC stuff, such as background sounds and colored lights, don't seem to be in. You've also got some of the new hairstyles, cooking recipes, camera options, and Island 101 app.
Don't forget the physical shop, either. The Nooklings should have some new things, like the placeable ladders or new items. New items are also in balloons, including the beloved Froggy Chair.
Go fishing. Certain fish will give new cooking recipes. I tried diving and got shrimp, lobster, oysters, and octopus, but none led to new recipes. My disappointment is immense, as is my need for sushi. Cooking is essentially the same as crafting, but requires the new Stone Oven to be crafted, placed, and used. Personally, I like having it next to the storage shed as I can pull out ingredients and put away dishes easily.
Finally, you'll want to go to Harv's Island, bring 100,000 bells with you, as each of the seven new shops you can unlock requires that and a day to build. Chefs and farmers may want to prioritize Leif, as he seems to sell starters for the new crops. If you're looking for Harriet's salon, don't worry, she'll start offering to cut hair once you've unlocked the first stall. The selections change weekly, so don't worry about missing a day or two.
That's most of what we've discovered so far, but I'm sure other bits and pieces will turn up. We'll update this post later should we find we missed any major features.
Massively OP's Andrew Ross is an admitted Pokemon geek and expert ARG-watcher. Nobody knows Niantic and Nintendo like he does! His
Massively on the Go
column covers Pokemon Go as well as other mobile MMOs and augmented reality titles!